Spring 2011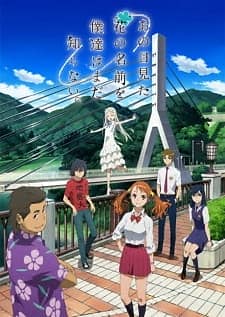 Ano Hi Mita Hana no Namae wo Bokutachi wa Mada Shiranai.
A-1 Pictures
11 episodes · Anime Music
Ongoing
anohana: The Flower We Saw That Day, AnoHana, We Still Don't Know the Name of the Flower We Saw That Day., あの日見た花の名前を僕達はまだ知らない。
Jinta Yadomi is peacefully living as a recluse, spending his days away from school and playing video games at home instead. One hot summer day, his childhood friend, Meiko "Menma" Honma, appears and pesters him to grant a forgotten wish. He pays her no mind, which annoys her, but he doesn't really care. After all, Menma already died years ago.
At first, Jinta thinks that he is merely hallucinating due to the summer heat, but he is later on convinced that what he sees truly is the ghost of Menma. Jinta and his group of childhood friends grew apart after her untimely death, but they are drawn together once more as they try to lay Menma's spirit to rest. Re-living their pain and guilt, will they be able to find the strength to help not only Menma move on—but themselves as well?
[Written by MAL Rewrite]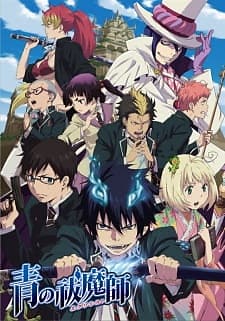 Ao no Exorcist
A-1 Pictures
25 episodes · Anime Music
Ongoing
Blue Exorcist, Ao no Futsumashi, 青の祓魔師(エクソシスト)
Humans and demons are two sides of the same coin, as are Assiah and Gehenna, their respective worlds. The only way to travel between the realms is by the means of possession, like in ghost stories. However, Satan, the ruler of Gehenna, cannot find a suitable host to possess and therefore, remains imprisoned in his world. In a desperate attempt to conquer Assiah, he sends his son instead, intending for him to eventually grow into a vessel capable of possession by the demon king.
Ao no Exorcist follows Rin Okumura who appears to be an ordinary, somewhat troublesome teenager—that is until one day he is ambushed by demons. His world turns upside down when he discovers that he is in fact the very son of Satan and that his demon father wishes for him to return so they can conquer Assiah together. Not wanting to join the king of Gehenna, Rin decides to begin training to become an exorcist so that he can fight to defend Assiah alongside his brother Yukio.
[Written by MAL Rewrite]
Denpa Onna to Seishun Otoko
Shaft
12 episodes · Anime Music
Ongoing
Ground Control to Psychoelectric Girl, Electromagnetic Wave Woman and Adolescent Man, 電波女と青春男
Makoto Niwa meticulously tallies the amount of positive and negative youthful experiences he engages in as if to grade his own life. When his parents go overseas, he moves to a new town to live with his aunt, welcoming the change and ready for a fresh start. However, as ordinary as he had imagined his adolescence to be, he could never have taken the existence of an enigmatic long-lost cousin into account.
Upon moving into his aunt's house, he discovers the cousin he never knew about: Erio Touwa. Despite being Makoto's age, she couldn't be more different: Erio chooses to wrap herself in a futon all day rather than to go to school. She even claims to be an alien, and with a speech pattern and personality to back it up, any chance of Makoto's dreamt-of normal life is instantly tossed out the window.
As he meets a string of other eccentric girls in town, Makoto must face the possibility of seeing his youth points in the red. However, he might be surprised by how thrilling an abnormal youth can be.
[Written by MAL Rewrite]