Spring 2015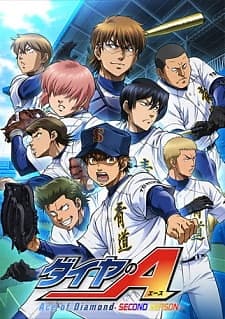 Diamond no Ace: Second Season
Madhouse, Production I.G
51 episodes · Anime Music
Ongoing
Ace of Diamond: Second Season, Daiya no Ace: Second Season, Ace of the Diamond: 2nd Season, ダイヤのA[エース]~Second Season~
After the National Tournament, the Seidou High baseball team moves forward with uncertainty as the Fall season quickly approaches. In an attempt to build a stronger team centered around their new captain, fresh faces join the starting roster for the very first time. Previous losses weigh heavily on the minds of the veteran players as they continue their rigorous training, preparing for what will inevitably be their toughest season yet.
Rivals both new and old stand in their path as Seidou once again climbs their way toward the top, one game at a time. Needed now more than ever before, Furuya and Eijun must be determined to pitch with all their skill and strength in order to lead their team to victory. And this time, one of these young pitchers may finally claim that coveted title: "The Ace of Seidou."
[Written by MAL Rewrite]
Fate/stay night: Unlimited Blade Works 2nd Season
ufotable
13 episodes · Anime Music
Ongoing
Fate/stay night [Unlimited Blade Works] Season 2, Fate/stay night (2015), Fate - Stay Night, Fate/stay night [Unlimited Blade Works] 2nd シーズン
In the midst of the Fifth Holy Grail War, Caster sets her plans into motion, beginning with the capture of Shirou's Servant Saber. With the witch growing ever more powerful, Rin and Archer determine she is a threat that must be dealt with at once. But as the balance of power in the war begins to shift, the Master and Servant find themselves walking separate ways.
Meanwhile, despite losing his Servant and stumbling from injuries, Shirou ignores Rin's warning to abandon the battle royale, forcing his way into the fight against Caster. Determined to show his resolve in his will to fight, Shirou's potential to become a protector of the people is put to the test.
Amidst the bloodshed and chaos, the motivations of each Master and Servant are slowly revealed as they sacrifice everything in order to arise as the victor and claim the Holy Grail.