Spring 2019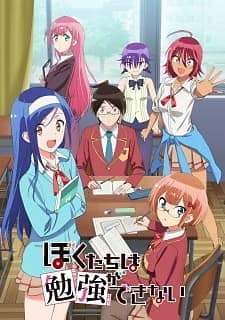 Bokutachi wa Benkyou ga Dekinai
Arvo Animation, Silver
13 episodes · Anime Music
Ongoing
We Never Learn: BOKUBEN, BokuBen, We Can't Study, ぼくたちは勉強ができない
Nariyuki Yuiga, an impoverished third-year high school student, works tirelessly to receive the VIP nomination, a scholarship that would cover all of his college tuition fees. In recognition of his hard work, the headmaster awards him the renowned scholarship.
However, this scholarship is given under one condition: he must tutor the school's geniuses in their weakest subjects! Joining his new brigade of pupils are the math maestro Rizu Ogata, who wants to study humanities; the literature legend Fumino Furuhashi, who wants to study science; and Yuiga's sports-savvy childhood friend, Uruka Takemoto, who is hopeless at everything else.
Bokutachi wa Benkyou ga Dekinai follows Yuiga as he tries to teach his three eccentric tutees in a series of strange and comedic antics. But as Ogata's and Furuhashi's ambitions conflict with their talents, will Yuiga be able to help his students achieve their dreams?
[Written by MAL Rewrite]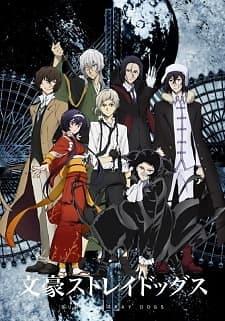 Bungou Stray Dogs 3rd Season
Bones
12 episodes · Anime Music
Ongoing
Bungo Stray Dogs 3, 文豪ストレイドッグス 第3期
Following the conclusion of the three-way organizational war, government bureaucrat Ango Sakaguchi recalls an event that transpired years ago, after the death of the former Port Mafia boss. Osamu Dazai, still a new recruit at the time, was tasked with investigating rumors related to a mysterious explosion that decimated part of the city years ago—and its connection to the alleged reappearance of the former boss.
Due to circumstances out of his control, he is partnered with Chuuya Nakahara, the gifted yet impulsive leader of a rival clan known as the "Sheep," to uncover the truth behind the case and shine a light on the myth of Arahabaki—the god of fire who might just lead Dazai to the case's solution.
Meanwhile, in the present day, it is business as usual once again for the Armed Detective Agency. Their peaceful break will not last for long, however, as enemies old and new gather their strength and prepare for another face-off.
[Written by MAL Rewrite]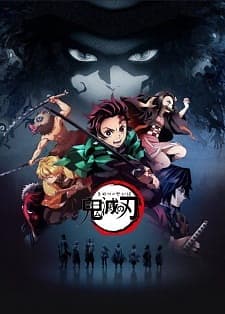 Kimetsu no Yaiba
ufotable
26 episodes · Anime Music
Ongoing
鬼滅の刃
Ever since the death of his father, the burden of supporting the family has fallen upon Tanjirou Kamado's shoulders. Though living impoverished on a remote mountain, the Kamado family are able to enjoy a relatively peaceful and happy life. One day, Tanjirou decides to go down to the local village to make a little money selling charcoal. On his way back, night falls, forcing Tanjirou to take shelter in the house of a strange man, who warns him of the existence of flesh-eating demons that lurk in the woods at night.
When he finally arrives back home the next day, he is met with a horrifying sight—his whole family has been slaughtered. Worse still, the sole survivor is his sister Nezuko, who has been turned into a bloodthirsty demon. Consumed by rage and hatred, Tanjirou swears to avenge his family and stay by his only remaining sibling. Alongside the mysterious group calling themselves the Demon Slayer Corps, Tanjirou will do whatever it takes to slay the demons and protect the remnants of his beloved sister's humanity.