Summer 2015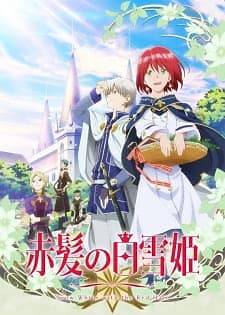 Akagami no Shirayuki-hime
Bones
12 episodes · Anime Music
Ongoing
Snow White with the Red Hair, Akagami no Shirayukihime, 赤髪の白雪姫
Although her name means "snow white," Shirayuki is a cheerful, red-haired girl living in the country of Tanbarun who works diligently as an apothecary at her herbal shop. Her life changes drastically when she is noticed by the silly prince of Tanbarun, Prince Raji, who then tries to force her to become his concubine. Unwilling to give up her freedom, Shirayuki cuts her long red hair and escapes into the forest, where she is rescued from Raji by Zen Wistalia, the second prince of a neighboring country, and his two aides. Hoping to repay her debt to the trio someday, Shirayuki sets her sights on pursuing a career as the court herbalist in Zen's country, Clarines.
Akagami no Shirayuki-hime depicts Shirayuki's journey toward a new life at the royal palace of Clarines, as well as Zen's endeavor to become a prince worthy of his title. As loyal friendships are forged and deadly enemies formed, Shirayuki and Zen slowly learn to support each other as they walk their own paths.
[Written by MAL Rewrite]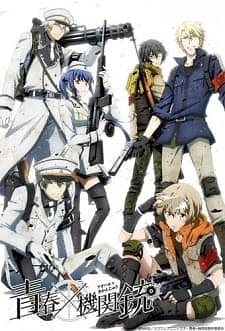 Aoharu x Kikanjuu
Brain's Base
12 episodes · Anime Music
Ongoing
Aoharu x Machinegun, Aoharu x Machine Gun, 青春×機関銃
Hotaru Tachibana has a strong sense of justice and just cannot help confronting those who choose to perform malicious acts. Furthermore, Hotaru is actually a girl who likes to disguise herself as a boy. After hearing rumors that her best friend was tricked by the popular host of a local club, Hotaru seeks to punish the evildoer. Upon arriving at the club, however, she is challenged to a so-called "survival game" by the host Masamune Matsuoka, where the first person hit by the bullet of a toy gun will lose.
After a destructive fight which results in Hotaru's loss, Masamune forces the young "boy" to join his survival game team named Toy Gun Gun, in order to repay the cost of the damages that "he" has caused inside the club. Although she is initially unhappy with this turn of events, Hotaru quickly begins to enjoy what survival games have to offer and is determined to pay off her debt, much to the dismay of Tooru Yukimura, the other member of Toy Gun Gun. As time goes on, Hotaru begins to develop a close friendship with the rest of the team and hopes to take part in realizing their dream of winning the Top Combat Game (TCG), a tournament to decide the best survival game team in Japan.
Although Hotaru tries her best, there are just two little problems: she is absolutely terrible at the game, and Toy Gun Gun doesn't allow female members on their team!
[Written by MAL Rewrite]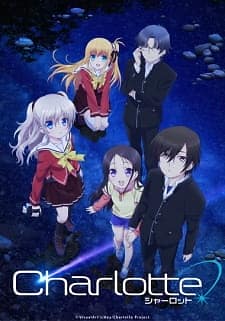 13 episodes · Anime Music
Ongoing
Charlotte, Charlotte(シャーロット)
While on the surface Yuu Otosaka appears to be just another charming and intelligent teenager, he has a secret—he has the ability to slip into people's minds and fully control their body for five seconds at a time. Yuu has been using this skill for years to gain the highest grades, which allowed him to enter a prestigious high school.
When the enigmatic Nao Tomori catches Yuu using his power, she coerces him and his sister Ayumi into transferring to Hoshinoumi Academy, a school for students with supernatural abilities. The student council of the school, led by Nao, is tasked with secretly tracking down adolescents who abuse their powers. Yuu is forced to join the student council and together, they face formidable challenges that bring him closer to the shocking truth that his own, seemingly incomplete ability, might be more powerful than he could have ever imagined.
An original story from Jun Maeda, creator of Angel Beats and Clannad, Charlotte explores the supernatural lives of these teenagers and the price they must pay for being special.
[Written by MAL Rewrite]